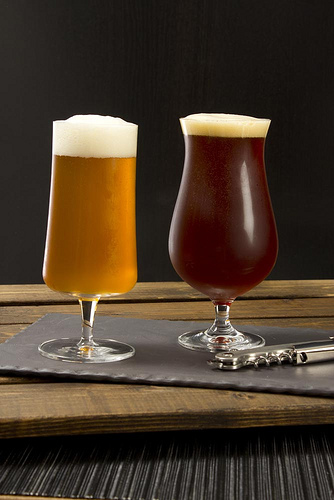 I first met Jackie Bernardi on Twitter. We follow, and even retweet, each other. Jackie is passionate about healthy skin, honest and authentic leadership, and craft brewing. Jackie joined a Craft Brewery Pilgrimage visit to Belmont Brewing in Long Beach, and agreed to answer a few questions about her experience.
Jackie, what is your story? How did you get involved in this movement?
I am a foodie-when not working or taking care of the family, you will find my nose buried an old cookbook, or lusting after food porn on Pinterest.
Up until last year, I had never really been a beer lover. In a crazy year I might have a sum total of three beers–two at baseball games, and one after a long day working in the garden.
One day my husband brought home a bottle of Saison Dupont and it was a bit of a game-changer for me. It didn't look or taste like any beer I ever had before. It was delicious, and I knew exactly what I would pair it with to make a meal exceptional (instead of wine). This discovery led me to seek out interesting beers, which ultimately led me to craft beer, breweries, and the Craft Brewery Pilgrimage.
How did you become so passionate about craft brewing?
I would not say that I am passionate about craft brewing, but I am fascinated by it.
When I have a craft brew, I mentally breakdown the flavor profile to see if I can pinpoint specific ingredients for possible food compatibility. I love doing this for a couple of reasons. 1). It allows my inner-Nancy Drew to come out and investigate–I'm a curious type. 2). It opens up conversation with others–which I could do all day long. I have met people and had amazing conversations that were started by a pint glass.
What was it like to actually participate in the Craft Brewery Pilgrimage?
What I loved most about joining the pilgrimage was the immediate connection I felt with the others who were there.
When I got to the meet-up, I didn't know anyone there except Greg (whom I knew via Twitter and had never met before). By the time we left, I felt that I had been given the gift of friendship with the others.
One very interesting aspect of the pilgrimage was that I was encouraged to stretch my ideas/beliefs. It may seem silly, but after having a strawberry-infused ale, I ordered a diet Coke thinking that nothing else on the beer menu appealed to me. I was encouraged by the others in the group to order a stout so I could compare it. When it arrived, I very reluctantly sipped the sample sized glass of tar. To my utter shock, I didn't hate it. By the time I finished, I quite liked it, and knew exactly what pair it with (roasted bone marrow on sourdough toast points). The thinly veiled lesson for me was to not let myself be held back by my [limited] beliefs. Ahhhhh, life lesson, and craft beer in one afternoon–a day well spent.
How has it changed your life so far?
How the pilgrimage has changed my life so far is the interesting people that I have met along the way. Whether it is a meetup with Greg, or just an evening out with my husband, craft beer is delicious, AND a real conversation starter.
Thank you, Jackie!
[Image by Dinner Series]