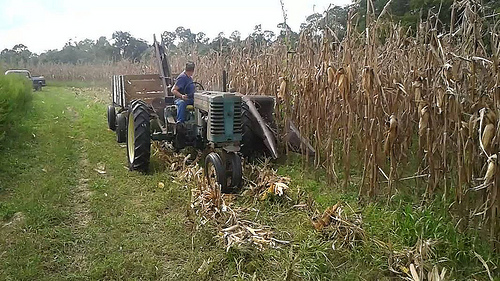 There are many differences between where I was born and raised and where I live now. There is more traffic here, on more freeways. There are more earthquakes and wildfires here, but more tornadoes and blizzards there. There are more people, from more different parts of the world, speaking more different languages, here. There is no professional football team here, but there is a place for the Stanley Cup.
One of the most significant differences is how people understand the month of October. Here, October can be the warmest month of the year. It is a month of fall movie openings, pumpkin spice lattes, and elaborate Halloween decoration.
Where I grew up, people know that October is intimately connected to food. October is the month when we reap what we have sown, when we gain from all the hard work and patient struggle of the summer. October is the harvest month.
People where I grew up know that food does not come from the store; food comes from the earth.
October is the month when we, like the pilgrims in Plymouth, find out whether we will have enough to make it through another winter. For those of us reading this, October is a time of gratefulness and thanksgiving. We have enough, and more. For many, gratefulness is more challenging.
Each week, I help prepare for the Food Locker at my church in South Pasadena. What I do does not take courage or great skill. I move boxes, help organize, and carry bags of rice and beans. It is a reminder that, even here, with temperatures over a hundred degrees, it is October. October is intimately connected to food, the harvest month.
What have you sown this year, and what are you reaping?
What makes you grateful this October?
[Image by faul]